florb: A simple map viewer and GPX editor
About
florb is a really simple map viewer and GPX editor written in C++ using the FLTK UI toolkit. florb makes it easy to create and edit tracks for planning short and extended trips into the wild green. Or anywhere else for that matter.
Features
User configurable tile servers (e.g. OpenStreetMap, Google Maps and many others)
Automatic map dowloading
Tile cache with metadata storage (expiration date)
Map overlay support
GPSd support incl. track recording
GPX import and export
Editing of existing GPX tracks
Creating new GPX tracks through simple point and click
Up- and download tracks to and from Garmin devices
Places search (OSM Nominatim)
Bulk tile download
View elevation profile for complete track or selected waypoints
Localization support (German translation)
Screenshots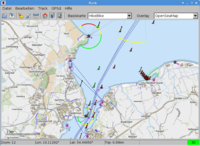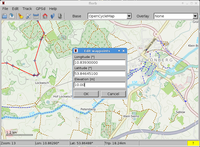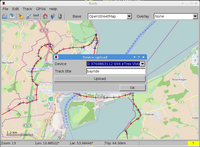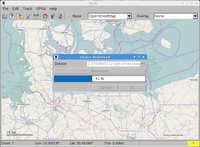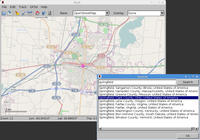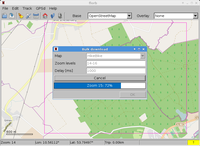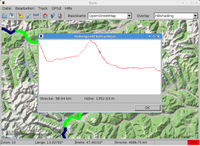 Installation
Download
florb 1.0 is out! Grab a copy here.
Requirements
FLTK
TinyXML2
libgps
libxpm
libcurl
YAML-Cpp (>= 0.5.0)
Boost::System / Filesystem / Thread
gpsbabel (if you want to talk to Garmin devices)
OMake
Build and install
Make sure you have the necessary dependencies installed, then change into the 'src' directory and run:

	omake
	sudo omake install

The default prefix is '/usr', you can specify a custom one like so:

	omake PREFIX=/path/to/florb

If you want a debug build add

	DEBUG=1

to the omake commandline.
Contact
Feedback and bugreports are always very much appreciated! Maybe you even want to contribute some code? Clone the GitHub repository and knock yourself out. Or drop an eMail to florb@shugaa.de with your patch. I'd love to see Windows and Mac ports, too.
License
florb is distributed unter the terms of the MIT license as stated below:

Copyright (c) 2014, Björn Rehm (bjoern@shugaa.de)

Permission is hereby granted, free of charge, to any person obtaining a copy
of this software and associated documentation files (the "Software"), to deal
in the Software without restriction, including without limitation the rights
to use, copy, modify, merge, publish, distribute, sublicense, and/or sell
copies of the Software, and to permit persons to whom the Software is
furnished to do so, subject to the following conditions:

The above copyright notice and this permission notice shall be included in
all copies or substantial portions of the Software.

THE SOFTWARE IS PROVIDED "AS IS", WITHOUT WARRANTY OF ANY KIND, EXPRESS OR
IMPLIED, INCLUDING BUT NOT LIMITED TO THE WARRANTIES OF MERCHANTABILITY,
FITNESS FOR A PARTICULAR PURPOSE AND NONINFRINGEMENT. IN NO EVENT SHALL THE
AUTHORS OR COPYRIGHT HOLDERS BE LIABLE FOR ANY CLAIM, DAMAGES OR OTHER
LIABILITY, WHETHER IN AN ACTION OF CONTRACT, TORT OR OTHERWISE, ARISING FROM,
OUT OF OR IN CONNECTION WITH THE SOFTWARE OR THE USE OR OTHER DEALINGS IN
THE SOFTWARE.